END OF THE CIVIL WAR
When Mort announced his retirement from the Civil War genre, he planned on his final print release to coincide with the conclusion of the 150th anniversary of the Civil War. This painting, as many have already guessed, depicts Robert E. Lee after the surrender at Appomattox.
However, there was one more Civil War painting that Mort was compelled to paint. Over twenty years ago, someone wrote Mort a letter about a most unusual event that took place in LaGrange, Georgia. About a week after Lee's surrender, the Nancy Hart Rifles (an all women militia) confronted Union Col. Oscar H. LaGrange when he and his troops entered their town. LaGrange vs. LaGrange will be released as a limited edition print in LaGrange, Georgia on April 17, 2015, the sesquicentennial of the event. The article below will give you an insight into Mort's retirement and the last two releases.
MORT IS RETIRING
A lot of people thought when Mort announced his final Civil War print series in 2012, that he was retiring. Since then he painted a large body of work on the American Revolution, which resulted in a beautiful volume of his works, The New Nation published by Sterling Publishing, and released last October. However, he recently decided that he really is retiring from painting major works. LaGrange vs. LaGrange will be his last major painting. After 65 years of doing what he loves, it started to feel like work. That's when it stops being fun. Below is an article based on an interview he gave discussing this change.

Künstler Ends Painting Career With 1865 Georgia Scene
By Bill Bleyer
(February/March 2015 Civil War News)
OYSTER BAY, N.Y. — Mort Künstler has retired after a six-decade career that made him one of America's foremost painters of historical scenes.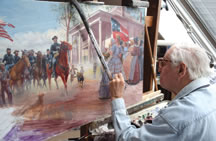 Künstler says his recently completed scene from the end of the Civil War, the subject of most of his paintings in recent years, will be his last because it had become too hard and too time-consuming to continue generating complex historical scenes.
"The reason I want to stop is because it's starting to feel like work," Künstler says. "I am 87 years old and have been painting for the last 60 to 65 years professionally. I used to take a paintbrush, dip it in the paint and it was almost like handwriting. Today it's taking much longer, which takes a lot of the joy out of it."
He says it used to take him an hour to paint someone's face in the middle of a crowd scene and now it can take all day.
"I always thought I'd like to die at the easel, but I don't want to do bad work," Künstler says. "And although I'm really doing a good painting – I think this new one is one of the best I've ever done – I would like to quit at a high note."
Click here to read the entire article.

Article courtesy of Historical Publications Inc.